Assess Your Personal COVID-19 Risk
Curious to know if you are at risk of a breakthrough infection from an unvaccinated aunt this Thanksgiving? Wondering how you can motivate your cousin to get vaccinated? Considering getting vaccinated because you're afraid of missing work if you get sick? Worried about a loved one who might be a little older and their risk of having to go to the hospital?

Epistemix partnered with the National Minority Health Association and Talus Analytics to build a simple online tool called COVID-SCAPE that lets anyone in the United States assess their personal COVID-19 risk for free.

Try it yourself right here.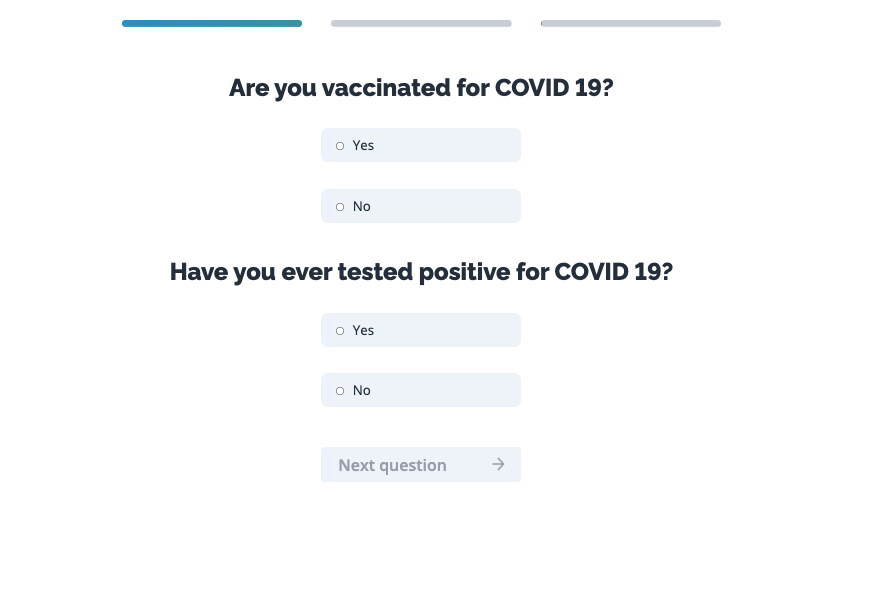 COVID-SCAPE works by using your age, zip code, and immunity status to estimate your individual risk of becoming infected with COVID-19 in the next 90 days. Our platform takes into account the latest public health data, local behaviors, previous infection status, and vaccination rates to project new cases, hospitalizations, and deaths in each zip code through January. Then we apply a multiplier based on CDC risk factors for immunity status.
COVID-SCAPE has four categories of immunity status:
No vaccination, no previous infection.

No vaccination, previous infection.

Vaccination, no previous infection.

Vaccination, previous infection.
The number of times an individual has been exposed to the SARS-COV-2 virus via vaccination or infection determines risk levels. For instance, an individual with both vaccination and previous infection is at the lowest risk in their zip code.
In addition to individual immunity, risk scores are based on location-specific risk factors. One of the most important things influencing your individual risk of infection is the number of individuals in your community that have been previously infected and/or vaccinated. The higher the level of population immunity across your community, the harder it is for the virus to spread within your community. The location risk also takes into account seasonal patterns in respiratory illness, location-specific population density, and the number of active cases that are projected to occur in the next 90 days in your area.

Why do you have to put in your age?

Age is a leading indicator of how sick somebody can become if infected with COVID-19. Simply put, older unvaccinated individuals are at a higher risk of hospitalization and death than younger unvaccinated individuals. We created 9 age categories (0-9, 10-19, 20-29, 30-39, 40-49, 50-59, 60-69, 70-79, 80+). For each age group, we adjust the risk of infection, hospitalization, and death based on national relative risks. We then calculate county-specific age relative-risk by standardizing population age structure. For instance, if a zip code has low numbers of 70+ year olds, we normalize the risk score for that age group based on the total number of 70+ year olds in that zip code.

Other risk assessment tools depend on in-depth surveys, sometimes asking you for details as specific as your hand-washing practices or whether your neighbors wear masks. These tools combine your data with national statistics to calculate your relative risk in a particular situation. For example, if you attend a concert, how much protection would wearing a mask offer? This approach to risk assessment depends on static national statistics and hard-to-verify personal data, doesn't take into account the evolving population risk factors in your community, and yields results that are hard to act on.

We developed COVID-SCAPE to give you actionable information with a streamlined set of inputs. Our tool takes the most important determinants of your covid risk—location, age, and immunity status—and tells you your risk of missing work, going to the hospital, or dying from COVID-19. You can run as many risk assessments as you want for yourself and your friends and family. It's free, anonymous, easy to understand, and offers insights you can apply in your day-to-day life.

With a 24/7 news cycle, it's easy to get overwhelmed by the flood of information about COVID-19 and just throw up your hands. COVID-SCAPE exists to offer you and your loved ones specific, accessible, actionable guidance as we head into the holidays.

Assess your personal COVID-19 risk now.
---
Lindsey Solden Reiser is the Managing Director of Professional Services at Epistemix.